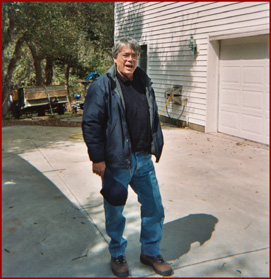 Resume' of James A. McMillan, "The Housewright®":
I began my career in "Building Technology" at about the age of 4 under the tutelage of my grandfather, WWII Naval Hero, Commander David E. Irwin. Commander Irwin was a brilliant engineer, leader of men and a great believer in the American Tradition of Craftsmanship. His knowledge, patience, pride in his work, and uncompromising standards of quality are the fundamental principles that underpin all of our work today.
My first project with the Commander was the complete renovation of his 1830's country home and outbuildings in Northern Ohio, a project that grew and continued between his work for many satisfied and sometimes wildly eccentric clients in the years before his death.
Over that span of time my work with my grandfather grew from "gopherin' tools" and trying not to be in the way to a comprehensive involvement with all aspects of building:
how to build a Home right from the foundation up,
what happens when it's built wrong,
how to fix other's mistakes, permanently & economically,
how to identify fatal flaws in a Building that really can't be fixed at a sensible price,
the importance of routine building maintenance, and
how to design, build and repair for low maintenance, comfort & energy savings.
This experience as well as an outstanding academic education and many years of additional hands-on renovation, remodeling and problem-solving in Building Technology and the contribution of our outstanding crews allow us to offer some of the best and most comprehensive talent available to assist our clients in the Building, Repair, Renovation, Remodeling and Evaluation of their Homes and other Real Estate Investments.